Winter in Abu Dhabi
Winter is the best season to visit Abu Dhabi. Because of it's mild temperatures you will be able to enjoy everything Abu Dhabi has to offer! Here you will find out which are the best outdoor activities to do in Abu Dhabi during Winter.
Top winter activities
Winter weather in Abu Dhabi
Abu Dhabi is known to have a desert climate, having warm temperatures all year round and being one of the warmest region in the United Arab Emirates. But during Winter, Abu Dhabi has comfortable, moderate temperatures with occasional rainfall, making it the best time to visit this amazing region.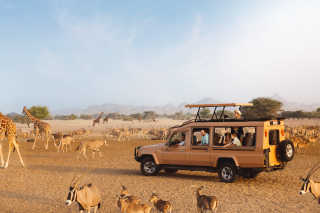 Top things to do during Winter
Because of Abu Dhabi's weather during Winter, this is the best season to do all the spectacular outdoor activities that Abu Dhabi has to offer. From discovering the desert to water sports, start creating your bucket list because you will not want to miss these activities!
Discover the desert
Abu Dhadi's desert, also known as the 'Empty Quarter', covers 70% of Abu Dhabi's land. This is the world's largest uninterrupted sand mass. To experience the best of the desert you should head to Al Ain, Al Dhafra, or Sir Bani Yas Island, which will show you different aspects of the desert life.
In Al Ain, a garden city, you will be able to experience one of the world's oldest permanently inhabited settlements, which is also a UNESCO World Heritage Site. Here you will find the perfect combination of green haven, desert settings and culture. Visit the Al Ain Oasis and wonder around the shaded pathways to reconnect with nature in the lush greenery. Or explore the great outdoors by visiting the Jebel Hafit Desert Park, where you can ride a camel, bike up a mountain, take a buggy for a spin and glamp under the stars, between many other magnificent desert activities! And lastly, in Al Ain, visit the Qasr Al Muwaiji fort, which is the 'pride of the nation'. This fort brings to life the story of Abu Dhabi's ruling family.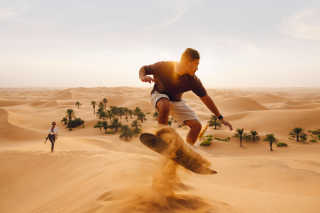 Al Dhafra, translated to 'where the desert meets the sea', is perfect to discover the desert and get that adrenaline pumping, to then head to the beach and get that well deserve break next to the sea. This part of the desert has a very dramatic scenery, which is due because of the sandy dunes that rise higher than any on this side of the Sahara. This makes it perfect for dune bashing and getting the adrenaline flowing! Afterwards you can head to Al Mirfa Beach, one of Abu Dhabi's best-kept secrets. This beach is almost never crowded, so you can arrive and relax all you want while being surrounded with turquoise waters.
Water sports in Abu Dhabi
From SUP (standup paddleboarding), to snorkelling and diving, Abu Dhabi has the perfect water activities for everyone to try! During this jolly season, Abu Dhabi's waters temperature can go as low as 20°C (68°F), making it a very pleasant swim after a day full of adventure. Here are the must-try water sport activities to do in Abu Dhabi:
1. Kayaking in Mangrove National Park
The mangroves have an essential role in this region, as they protect it against tidal surges, purify the surrounding water and remove carbon dioxide from the atmosphere. But they also are home to a community of crabs, turtles, herons, flamingos and multiple species of fish, making it a natural spectacle that you cannot miss.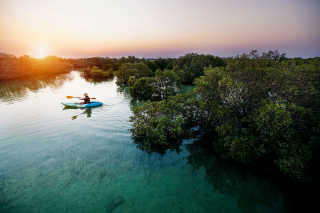 2. Go sailing on the Arabian Gulf
Jump on a catamaran from Yas Marina and discover the beautiful Abu Dhabi from a completely different perspective. Go to the different islands around the city, explore the mangroves in a more relaxed way, or embark on an Abu Dhabi Pearl Journey, to learn more about the rich cultural heritage of the Arabian Gulf. But no matter what you decide to explore, you must finish your trip back in the Yas Marina right on time for sunset, and enjoy that golden hour that will leave you breathless.
3. Wakeboarding, snorkelling and much more
Now it's time to try wakeboarding, waterskiing or kneeboarding cable ski in Al Forsan International Sports Resort, Jalboot Watersports Centre or Wadi Adventure. These parks guarantee an unforgettable water sports experience! And for the scuba diving lovers, Abu Dhabi is the perfect vacation destination, as its an archipelago made up of hundreds of islands. So go and discover the many good diving sites around the emirate, where you will find wreck dives, deep-water dives and reef dives.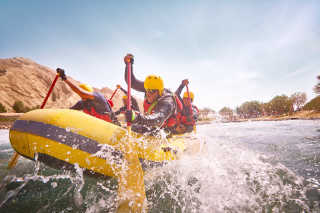 ---
Ready to experience Winter in Abu Dhabi?
Planning on spending a warmer winter a bit far from home? Try visiting Abu Dhabi during this season an enjoy everything this amazing region has to offer! Book with Vayama.ie and get our best flight deals.
---
Need more ideas about where to travel? Check out our blogs!