Abu Dhabi for Every Type of Traveller
Abu Dhabi for Every Type of Traveller
Abu Dhabi is for everyone, as there's no way you will not find something perfect for you in this amazing city. If you are an adventurous traveller, you must experience sandboarding in Abu Dhabi's incredible sand dunes, or if you are a cultural traveller, apart from Abu Dhabi's diverse culture, you must also visit its many heritage sites and cultural landmarks. Together with Visit Abu Dhabi we have selected the top activities to do for every type of traveller in the UAE's amazing capital.
Abu Dhabi for...
Abu Dhabi for the adventurous traveller
The adventurous traveller will for sure not get bored in Abu Dhabi, but will have their heart racing during the whole trip. With Abu Dhabi's dunes and sand valleys you can try dune bashing, which is a fantastic way to discover the deserts and get that adrenaline pumping. Or you could try sandboarding, where you can board down the 300-metre dunes and try not to fall and be covered in sand. Or try out a safari tour in Abu Dhabi with the Al Ain Safari, where you can discover the animals and flora of the area. Here you will be able to see animals like the African lions, white rhinos, ostrich, zebras, and around 2500 plants.
We all know that the desert can get quite warm, so after all the dune bashing and sandboarding, why not try a water sport? In Abu Dhabi there are many water sport centres where you can try wakeboarding, waterskiing, or even diving. So if you haven't tried one of them out before, why not do it in Abu Dhabi?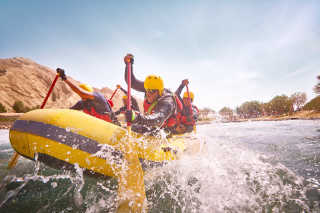 Abu Dhabi for the luxury traveller
Abu Dhabi is the largest of the 7 emirates and has nearly two-thirds of UAE's economic activity, which makes it a synonym of luxury. And if luxury is for you, then Abu Dhabi is too. Visit Avenue at Etihad Towers, one of the world's most high-end and exclusive collections of boutique shops. Or head to The Galleria Al Maryah Island, where you will find over 400 stores and where you can enjoy fine-dining after your shopping adventure.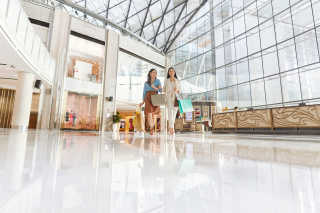 One thing you cannot miss when visiting Abu Dhabi is the Zaya Nurai Island, which is a luxury hotel on its own island, making it the ultimate luxury experience. And the best part is that you don't need to book a villa to experience it, you can also do a dining reservation which includes a complimentary boat transfer to and from the island. Imagine sitting next to the beach while enjoying a fancy and delicious dinner, sounds like a dream right?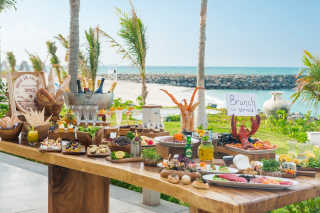 If you want to experience the whole Abu Dhabi desert experience, you can also do it in style in the Desert Rose Bedouin Desert Camp. This represents the ultimate luxury desert camping experience in Abu Dhabi, where you will get to discover breathtaking sunsets and starry skies at night, offering an authentic taste of the UAE's heritage. Ready to enjoy a luxurious cultural experience?
Abu Dhabi for the cultural traveller
Abu Dhabi is a city full of culture, and there are multiple activities that will help you fully emerge into this beautiful culture. The first one is Arabian Night Village, created to experience the beauty of the desert and the aspects of traditional Emirati life. This experience offers guests a chance to unwind and enjoy the beauty of the surrounding desert. But if desert is not really your thing, go to the Heritage Village, where you will get to experience the traditional way of life.
Another way to experience the culture is to do as locals, and what do Abu Dhabi locals do? They shop in souq, which is the typical Middle-Eastern market. Of all the incredible souq in Abu Dhabi, the one you must visit is Souq Al Qattara. This souq is situated in a UNESCO World Heritage Site in Al Ain, and it also encourages to preserve and promote Abu Dhabi's heritage through the production of traditional handicrafts.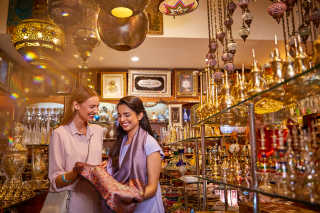 The last step to emerge yourself in Abu Dhabi's culture is to visit Sheikh Zayed Grand Mosque. This is one of the world's largest mosques and defined as an architectural masterpiece that combines Islamic culture with design. This mosque was created to create a cultural haven that welcomes and inspires people from all backgrounds.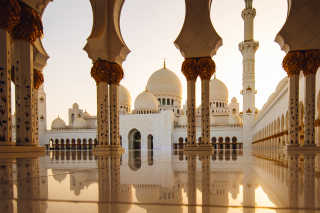 Abu Dhabi for the nature traveller
Abu Dhabi is situated in the coast of UAE and is part of the Empty Quarter, the world's largest uninterupted desert, creating a diverse natural habitat worth of exploring. The first thing you must visit is the Mangrove National Park, located right next to the city center. This park has free-entrance, where you can walk around and discover the beautiful mangroves, but there are also some excursions available, like a kayak tour to discover the mangroves from another perspective. This park is ideal for families, bird watchers and nature lovers, or for travellers that would like to escape the city for a little while.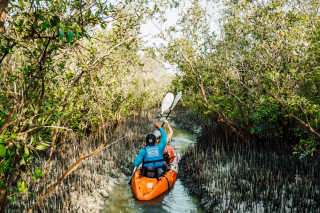 Did you know that Abu Dhabi is an archipelago made up of over 200 islands? Crazy, right? And guess what, many of them are accessible to visitors. But if you're here for nature, you must then visit Sir Bani Yas Island. More than half of this island is made up of the Arabian Wildlife Park, one of the region's largest wildlife reserves. Here you will be able to find more than 17000 free-roaming animals, like the Arabia oryx, gazelles, giraffes, hyenas, and cheetahs.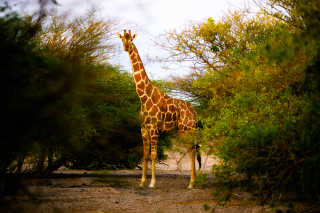 Abu Dhabi for the family traveller
Abu Dhabi is also full of family-friendly activities, where both, the parents and the children, will have an amazing time. You can go to the Al Wathba Lake Camp, a new attraction for camping and picnicking. This campsite, only a 45-minute drive from Abu Dhabi, features 13 separate camp spaces, or free space for setting up your own tent and RVs, where you can enjoy a view on the lake or in the desert. It also includes 24 picnic sites where you can barbecue and enjoy fun sport activities, like volleyball, multiple playgrounds, some with a pontoon walk, and observation decks to enjoy a breathtaking panoramic view.
On the other side of the city, you can also visit Yas Island, for a location full of family activities. You can go go-karting at Yas Kartzone, or visit the multiple themed parks around the island, like A Landmark Theme Park or An Adventure Waterpark, for a more refreshing activity during those hot days. Another thing you can do to refresh yourself is go to the Pristine Beachfront, a great place to relax and enjoy the warm and cozy sun.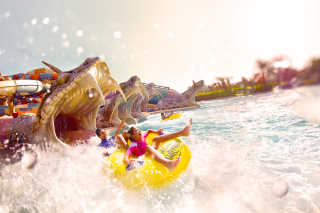 And lastly, for the family travellers, you can visit the Yas Mall or the Marina Mall. There the parents can enjoy a relaxing shopping afternoon while the children go and play in KidZania or Bounce. KidZania, located in Yas Mall, is an interactive mini-city that combines playful activities with education. While Bounce, in Marina Mall, is a safe space where children can jump around and where "the rules of gravity no longer apply". These two locations will for sure give children a perfect afternoon full of fun!
Abu Dhabi for the romantic traveller
Why not plan a honeymoon trip to Abu Dhabi? Where not only you will see the beauty of the city, but the city itself will have you feeling all lovey-dovey. You can mix love and culture by enjoying an afternoon in the Louvre Abu Dhabi, the first universal museum in the Arab World. Plus, this is also one of the best places to watch a beautiful sunset. Ready to spend a cultural afternoon and to end the day with a romantic sunset?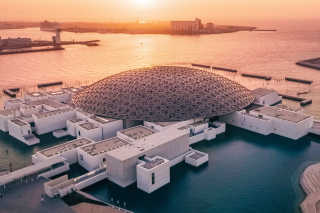 Talking about sunsets, there are many places in Abu Dhabi to enjoy the golden hour. Go up the Observation Deck at 300, where you will get uninterrupted views of the city skyline, a perfect location to grab a cup of tea or coffee and enjoy an above the clouds sunset. And if heights are not your thing, you can also go on a romantic stroll along the Abu Dhabi Corniche, where you can enjoy the sunset just next to the waterfront. So, where are you planning to enjoy Abu Dhabi's magical sunsets?
And lastly, for a perfect romantic getaway you should experience the Arabia Nights Village, already mentioned above. This experience showcases the soul of old Arabia, created for travellers to experience the beauty of the desert. It also offers many activities to do, like camel rides, quad biking or even morning safaris. And couples can enjoy the romantic package, designed to offer seclusion and relaxation.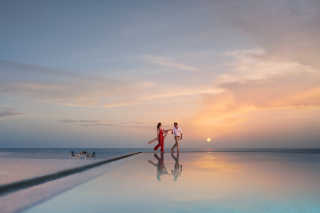 Ready to visit Abu Dhabi?
No matter what you're looking for, Abu Dhabi has something for you, so start planning your trip now! Book with Vayama.ie and get our best flight deals. It's time for an Arabic adventure!